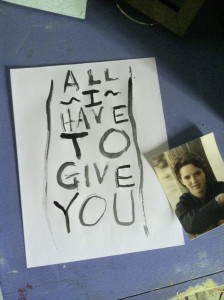 If I could give you any gift,
I'd give you
cathedrals, spires and
hollow, with
a gargoyle choir to scare demons
and chase monsters from your closet.
I'd give you
Serengeti grassland, stampedes of
gazelle, and
sunset to match your eyes, sparkling.
I'd give you
rivers, and ponies, and gentle downy goslings.
And simple clouds to roll across your face in the morning.
Mountains and valleys, and oceans and lakes, and eternity
baked in a pie…
but all I can give you
are ink scribbles
and smiles,
and pictures painted with words,
and a forehead kiss goodnight.