I wrote a story for the Bradford Era about my friend Brian Mahaney of Forged Spirit Garage, and it was picked up by the Associated Press, and distributed to newspapers and media outlets globally! Featured in papers in Erie, Houston, Seattle, Pittsburgh, Philly, Washington,
You can read the original article here: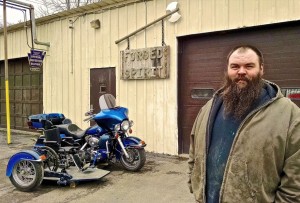 When Brian Mahaney started riding his Harley, he experienced a sense of freedom and adventure — but realized that many others wouldn't have that.
"I got thinking about those in wheechairs, disabled vets, and others who wouldn't get to feel the road this way," said Mahaney, who took that thought, and put some wheels on it.
Mahaney and his wife, Michelle, started "Forged Spirit Garage" this past summer with the intent to develop a wheelchair accessible sidecar, which offers what he calls "two-wheel therapy." "Getting out on the bike is amazing. You feel the wind, and the road, and you don't think of anything. It's a great way to clear your mind, and you aren't thinking about the bills, the stress or the worry or anything but being on the road," explained Mahaney.
Wheelchair accessible sidecars and trikes aren't a new thing, but Mahaney explained the Forged Spirit sidecar is different than existing wheelchair options. Most sidecars that allow a wheelchair rider to board are boxy and enclosed, and it doesn't feel the same as riding a motorcycle.
"Some people with wheelchairs will ride trikes, but if they take that trike on a dice run, they have to leave their wheelchair behind. So if they want to get off the trike and go into a barbecue joint, they can't do that," said Mahaney. "Their wheelchair is where they live their life — it's their transportation when they aren't on the bike — and if they can't have it with them, it really is limiting. With this, they can do what any other able bodied rider can do — they can ride the bike somewhere, and then get off and go in and eat, or whatever, and then get back on the bike and go home."
Mahaney explained that his sidecar, which is a simple steel platform, attached with a swivel arm, a third wheel, and an air suspension kit, allows the wheelchair to pull on to the bike, and ride as a passenger, or if able, to transfer to the bike to drive it themselves.
Each sidecar is customizable. He said that it can just be a platform, or it can be made to match the style of the bike, with custom fenders, or any other accessories that would go on a Harley, including handlebars, fairings, etc.
"It really gives the sidecar the look and feel of a riding the motorcycle. So that a disabled person can get the same experience on the bike. It doesn't look like an add-on, it looks like it was built by the manufacturer of the bike."
Mahaney said that his prototype is getting some attention. He took it to the L.E.E.K. Hunting Preserve in Oswayo this summer for an event.
"They do such a great job with their track chairs, allowing disabled vets to hunt," said Mahaney. "So when we were there, a lot of people saw our sidecar, and really seemed to understand what we were doing, and were very supportive."
He also took the sidecar to Rally in the Valley this summer, and met a man who sold his bike when his disabled daughter was born.
"He loved riding, and told me that he would love to be able to have something like this," Mahaney said. "She was able to pull her wheelchair on the bike, and her face lit up! Her mom started crying, because they loved the idea of being able to take their daughter on a ride with them."
Mahaney said the initial idea came while thinking about disabled vets, who suffer from PTSD. Since riding his bike gave him a bit of "two-wheel therapy," it didn't seem right that vets, or anyone else for that matter, didn't have the access to motorcycles that he had.
"I'd really like to be putting them into the hands of everyone that wants one. That's what this is all about, helping people that want to ride, so they can have that same feeling on the road," said Mahaney.
Now that the prototype is built, Mahaney is in the marketing and development stage, and he's funding his project by doing automotive repair and fabrication at the garage.
"I can fix and build pretty much anything, so I'll do that as much as I need to, so that we can get this project off the ground," Mahaney said.
Forged Spirit Garage is located in the Bradford Office of Economic and Community Development incubator facility on Russell Boulevard, and Mahaney is using his space to repair cars, trucks, small engines, and light fabrication work, while developing his wheelchair sidecar.